decolite usa®
The Next Generation Flexible Neck and Décolleté LED Mask for the Treatment of Fine Lines and Wrinkles.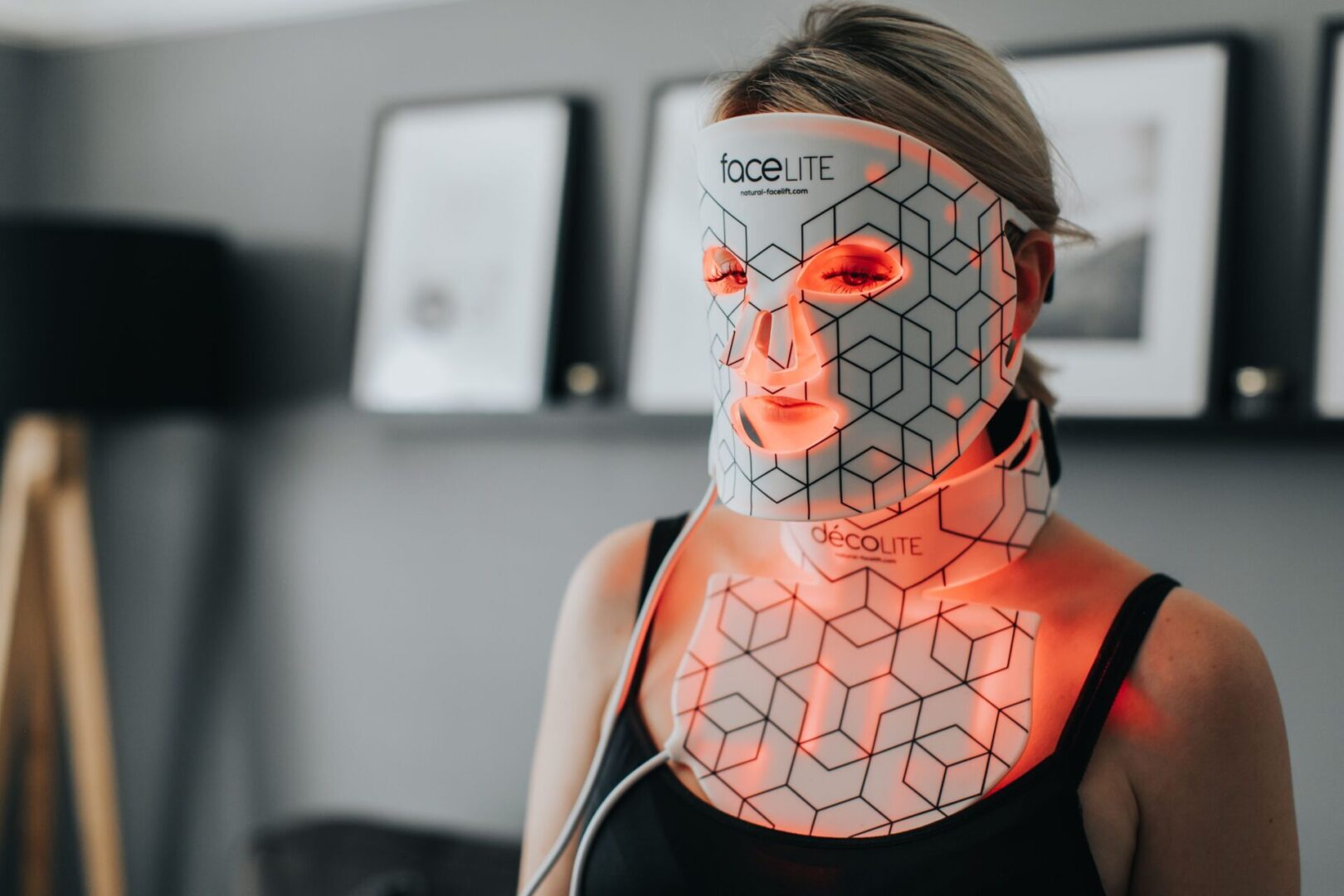 An LED Anti-Aging Treatment For Your Entire Neck & Décolleté... in just 10 minutes!
decoLITE USA is a clinically proven treatment used to increase skin hydration and firmness, while reducing signs of aging.  After just one session, your skin will feel plumper, more hydrated and  rejuvenated! Our LED Neck and Décolleté Mask is an easy to use, portable, non-invasive treatment, which requires no downtime.
Phototherapy: The use of light to enhance biological activity
Phototherapy is not a new science, and there have been over 1000 clinical studies on the effects of light on our bodies. Phototherapy is the exposure of cells and tissue to low levels of visible or near infrared light.
When these wavelengths penetrate the skin they are absorbed by the mitochondria of the cell. This starts a cascade of intra and extracellular reactions that promote healthier skin. These reactions first begin when the light is absorbed by the cell's mitochondria and continue to work even after the light has been switched off. Studies have demonstrated that red and near infrared light at the specific energy levels used in decoLITE USA:
Enhances the production of adenosine triphosphate (ATP) which enhances cellular metabolism and proliferation
Enhances cellular balance, improving function within the cell and between cells
Increases blood flow to improve tissue oxygenation, eliminate toxins and may help accelerate healing
Increases collagen and elastin synthesis
Improved Skin. Fast Results.
   Visible results after four weeks.
Our technologies were tested on over 100 patients in Independent clinical studies, peer-reviewed, published papers, with supported claims that are proven to be statistically significant.
98% agree their skin felt firmer
96% agree their fine lines were less visible
95% agree their skin was brighter and plumper
Clinically Proven Results from Home
Clinically proven to improve the appearance of wrinkles from the comfort of your home.
Get in Touch with a faceLITE USA LED Mask Product Expert!
We're ready to lead you into the future of Aesthetics.
faceLITE USA LED devices are changing the face of LED therapy by offering professional grade treatments at home.
faceLITE USA devices uses the most clinically-effective, research-backed, FDA cleared LED light technology available in a flexible home-use device. It is clinically proven to deliver the correct wavelengths of light and energy to promote collagen and elastin production.²
Developed by experts in LED technology, the team behind faceLITE USA developed the leading free- standing professional LED devices. With over 32 peer- reviewed clinical papers on light therapy, and used by dermatologists globally, you can be confident in the science and the team behind the technology.
2. Takezaki, S., Omi, T., Sato, S., & Kawana, S. (2005). Ultrastructural observations of human skin following irradiation with visible red light-emitting diodes
(LEDs): a preliminary in vivo report. Laser Therapy, 14(4), 153-159.
Drug free solution

Hands free technology

No consumables necessary

No hidden costs

FDA Cleared

Class II Medical Device

Flexible, easy to use, portable
Technology Claim
FDA 510k Cleared
Tested for Quality and Safety
FDA 510k Cleared and Trusted by thousands of Aesthetic Practitioners
Quick Processing and Ship Times
Schedule a Demo Today!